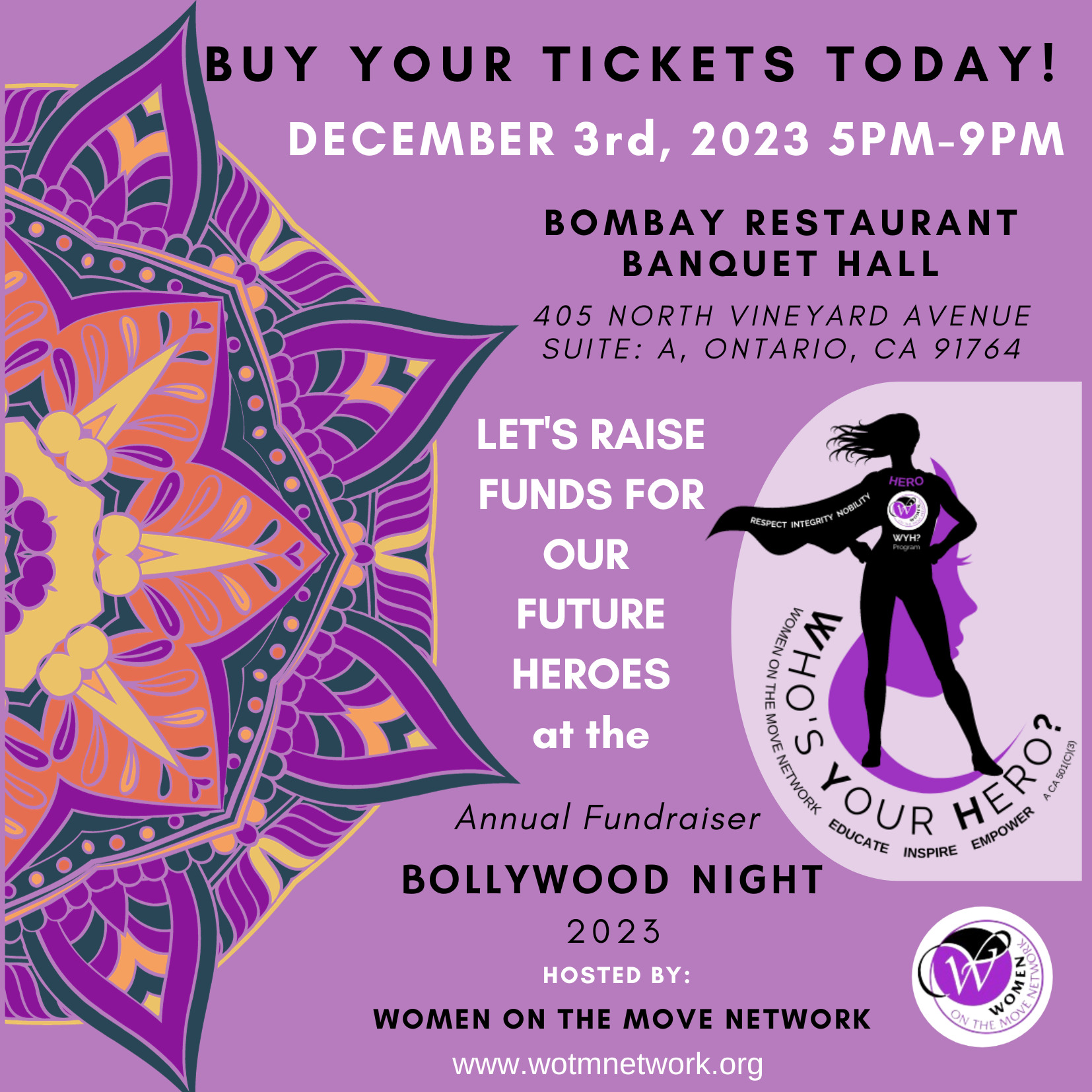 Join Us for a Night of Empowerment at Our Annual Fundraiser! Tickets On Sale Now!
Ladies and gentlemen, the countdown to an unforgettable evening has begun! The annual fundraiser for the "Who's Your Hero?" program, our girls' empowerment initiative, is just around the corner. This is your golden ticket to an event that promises inspiration, empowerment, and positive change.
Event Details:
🗓️ Date: December 3rd
🕒 Time: 5:00 PM - 9:00 PM
📍 Location: Bombay Restaurant Banquet Hall: 405 North Vineyard Avenue Suite: A, Ontario, CA 91764
AUCTION ITEMS AVAILABLE FOR PURCHASE!
We accept payments in the form of Cash, Checks, and Zelle!
Why You Should Attend:
The "Who's Your Hero?" program is all about empowering the next generation of heroines, instilling confidence, and nurturing leadership. By attending our annual fundraiser, you become a part of this incredible journey. Here's what you can look forward to:
Inspiration: Prepare to be inspired by the stories of young girls who have found their inner heroes and are making a difference.
Impact: Your presence and support directly impact the lives of these girls, providing them with the tools they need to succeed.
Networking: Connect with like-minded individuals who are passionate about girls' empowerment and making the world a better place.
Entertainment: Enjoy a night of entertainment, music, and fun activities.
Tickets for this remarkable event are on sale now! By purchasing a ticket, you're not only securing your spot at the fundraiser but also contributing to our cause. This is an investment in a future where every girl can discover her inner hero.
Support the Cause:
Can't make it to the event? You can still support the "Who's Your Hero?" program by making a donation. Every dollar counts in our mission to empower girls.
Spread the Word:
Help us reach even more potential heroes by sharing this event with your friends, family, and on your social networks. Let's make this fundraiser a resounding success!
Save the Date and Join Us:
Mark your calendars for December 3rd from 5:00 PM to 9:00 PM at the Bombay Restaurant Banquet Hall. Get ready to be a part of something truly extraordinary. We look forward to seeing you at our annual fundraiser for the "Who's Your Hero?" program. Together, we can change lives, one girl at a time.
#AnnualFundraiser #EmpowerGirls #WhoIsYourHero #GirlsEmpowerment #ChangeMakers #InvestInHerFuture